---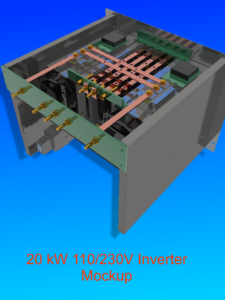 The distribution of public electricity is carried out in alternating current or, in rare cases, in continuous with voltage levels that allow operating with contained currents.
In cases where the distribution is in direct current it is linked to the presence of one or more batteries of accumulators that guarantee continuity of supply even in the event of failure of the main source.
It is therefore necessary to build equipment that allows to "transform" electrical energy from direct current into alternating with different characteristic parameters of the distribution networks. These devices are commonly called inverters.
The series develops with the following characteristics.
Input voltages: 24-48-110-220-400 V
Output power: from 0,1 to 20 kW
Output voltages: from 115 to 400 V – 50/60 Hz 1/3 phases
The series includes the following products.
| Type | Description | PDF |
| --- | --- | --- |
| IMT1000 | Class 2 Intrinsic Safe Stabilized dc/ac Inverter P = 1000W | IMT0213E |
| IMT1500 | Class 2 Intrinsic Safe Stabilized dc/ac Inverter P = 1500W | IMT0213E |
| IMT2500 | Class 2 Intrinsic Safe Stabilized dc/ac Inverter P = 2500W | IMT0213E |
| IMT5000 | Class 2 Intrinsic Safe Stabilized dc/ac Inverter P = 5000W | IMT0213E |
| IMT7500 | Class 2 Intrinsic Safe Stabilized dc/ac Inverter P = 7500W | IMT0213E |
| IMT10000 | Class 2 Intrinsic Safe Stabilized dc/ac Inverter P = 10000W | IMT0213E |