---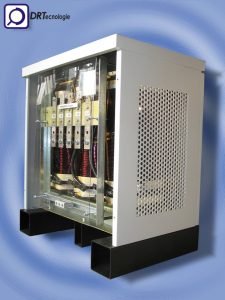 Whenever the voltage levels or the potential of the distribution nodes differ in value in an electrical installation, electromagnetic transformers are required which, if properly designed, can guarantee high insulation voltages.
They can be single-phase, three-phase or hexaphase in a stand-alone container or for installation in distribution cabinets.
The series spans with the following characteristics.
Input / Output voltages: 115-230-400 V
Output power: from 1 to 150 kW
Primary / secondary insulation voltages: from 2,5 to 15 kV – 50Hz
The series includes the following products.
| Type | Description | PDF |
| --- | --- | --- |
| TMI 300 | Class 2 One-phase insulation transformers - P = 300VA | TMI0408E |
| TMI 600 | Class 2 One-phase insulation transformers - P = 600VA | TMI0408E |
| TMI 900 | Class 2 One-phase insulation transformers - P = 900VA | TMI0408E |
| TMI 1200 | Class 2 One-phase insulation transformers - P = 1200VA | TMI0408E |
| TMI 1800 | Class 2 One-phase insulation transformers - P = 1800VA | TMI0408E |
| TMI 2400 | Class 2 One-phase insulation transformers - P = 2400VA | TMI0408E |
| TMI 3600 | Class 2 One-phase insulation transformers - P = 3600VA | TMI0408E |
| TTI 60 | Class 2 Three-phases insulation transformers - P = 6000VA | TTI0310E |
| TTI 80 | Class 2 Three-phases insulation transformers - P = 8000VA | TTI0310E |
| TTI 100 | Class 2 Three-phases insulation transformers - P = 10000VA | TTI0310E |
| TTI 160 | Class 2 Three-phases insulation transformers - P = 16000VA | TTI0310E |
| TTI 250 | Class 2 Three-phases insulation transformers - P = 25000VA | TTI0310E |
| TTI 400 | Class 2 Three-phases insulation transformers - P = 40000VA | TTI0310E |
| TTI 600 | Class 2 Three-phases insulation transformers - P = 60000VA | TTI0310E |
| TVH 900 | Class 2 Three-phases Power Supply Box - P = 900VA | TVH1010E |
| TVH 1200 | Class 2 Three-phases Power Supply Box - P = 1200VA | TVH1010E |
| TVH 1800 | Class 2 Three-phases Power Supply Box - P = 1800VA | TVH1010E |
| TVH 2400 | Class 2 Three-phases Power Supply Box - P = 2400VA | TVH1010E |
| TVH 3600 | Class 2 Three-phases Power Supply Box - P = 3600VA | TVH1010E |
| TVH 4800 | Class 2 Three-phases Power Supply Box - P = 4800VA | TVH1010E |
| TVH 6000 | Class 2 Three-phases Power Supply Box - P = 6000VA | TVH1010E |
| TVJ 300 | Class 2 One-phase Power Supply Box - P = 300VA | TVJ1209E |
| TVJ 600 | Class 2 One-phase Power Supply Box - P = 600VA | TVJ1209E |
| TVJ 900 | Class 2 One-phase Power Supply Box - P = 900VA | TVJ1209E |
| TVJ 1200 | Class 2 One-phase Power Supply Box - P = 1200VA | TVJ1209E |
| TVJ 1800 | Class 2 One-phase Power Supply Box - P = 1800VA | TVJ1209E |
| TVJ 2400 | Class 2 One-phase Power Supply Box - P = 2400VA | TVJ1209E |
| TVJ 3600 | Class 2 One-phase Power Supply Box - P = 3600VA | TVJ1209E |
| TZI 25 | Non-linear loads Three-phases insulation transformers - P = 25KVA | TZI0115E |
| TZI 40 | Non-linear loads Three-phases insulation transformers - P = 40KVA | TZI0115E |
| TZI 60 | Non-linear loads Three-phases insulation transformers - P = 60KVA | TZI0115E |
| TZI 80 | Non-linear loads Three-phases insulation transformers - P = 80KVA | TZI0115E |
| TZI 100 | Non-linear loads Three-phases insulation transformers - P = 100KVA | TZI0115E |
| TZI 125 | Non-linear loads Three-phases insulation transformers - P = 125KVA | TZI0115E |
| TZI 150 | Non-linear loads Three-phases insulation transformers - P = 150KVA | TZI0115E |
| TZN 25 | Non-linear load Three-phases Harmonic compensators - P = 25KVA | TZN1004E |
| TZN 40 | Non-linear load Three-phases Harmonic compensators - P = 40KVA | TZN1004E |
| TZN 60 | Non-linear load Three-phases Harmonic compensators - P = 60KVA | TZN1004E |
| TZN 80 | Non-linear load Three-phases Harmonic compensators - P = 80KVA | TZN1004E |
| TZN 100 | Non-linear load Three-phases Harmonic compensators - P = 100KVA | TZN1004E |
| TZN 125 | Non-linear load Three-phases Harmonic compensators - P = 125KVA | TZN1004E |
| TZN 150 | Non-linear load Three-phases Harmonic compensators - P = 150KVA | TZN1004E |