---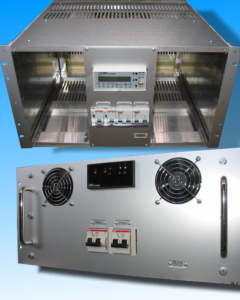 Every day we meet a power supply.
From the simple "battery charger" of the mobile phone, to the power supply of the PC, from the television to the microwave oven, they are all equipment that "transform" the electricity, coming from the public network that is available in alternating current at 115 /230 / 400 volts, in direct current at low voltage.
In the fields of industry, automation and transport, power supplies are used in measures proportional to the power to be supplied to the users.
Motors, processors, switches, valves and burners are frequently powered by direct current and require powers ranging from a few watts to several megawatts (millions of watts).
The series spans with the following characteristics.
Input / Output voltage: 115-230-400 V one-phase or three-phases
Output power: from 1 to 150 kW
Output voltage: from 12 to 400 V
The series includes the following products.
| Type | Description | PDF |
| --- | --- | --- |
| AFR402 | Class 2 Intrinsic Safe Redundant Power Supply P = 400W | AFR0700E |
| AFR602 | Class 2 Intrinsic Safe Redundant Power Supply P = 600W | AFR0700E |
| AFS1200 | Class 2 Intrinsic Safe Stabilized Power Supply P = 600W | AFS0700E |
| AFS1600 | Class 2 Intrinsic Safe Stabilized Power Supply P = 800W | AFS0700E |
| AFS2000 | Class 2 Intrinsic Safe Stabilized Power Supply P = 1200W | AFS0700E |
| AFS600 | Class 2 Intrinsic Safe Stabilized Power Supply P = 1600W | AFS0700E |
| AFS800 | Class 2 Intrinsic Safe Stabilized Power Supply P = 2000W | AFS0700E |
| ASR1200 | Class 1 Switching Stabilized Power Supply P = 150W | ASR0613E |
| ASR150 | Class 1 Switching Stabilized Power Supply P = 300W | ASR0613E |
| ASR300 | Class 1 Switching Stabilized Power Supply P = 600W | ASR0613E |
| ASR600 | Class 1 Switching Stabilized Power Supply P = 800W | ASR0613E |
| ASR800 | Class 1 Switching Stabilized Power Supply P = 1200W | ASR0613E |
| CBM10 | One-phase Stabilized Class 1 Battery Charger O = 10A | CBM0800E |
| CBM16 | One-phase Stabilized Class 1 Battery Charger O = 16A | CBM0800E |
| CBM25 | One-phase Stabilized Class 1 Battery Charger O = 25A | CBM0800E |
| CBM40 | One-phase Stabilized Class 1 Battery Charger O = 40A | CBM0800E |
| CBM63 | One-phase Stabilized Class 1 Battery Charger O = 63A | CBM0800E |
| CBS40 | Three-phases Stabilized Class 1 Battery Charger O = 40A | CBS0701E |
| CBS63 | Three-phases Stabilized Class 1 Battery Charger O = 63A | CBS0701E |
| CBS80 | Three-phases Stabilized Class 1 Battery Charger O = 80A | CBS0701E |
| CBS100 | Three-phases Stabilized Class 1 Battery Charger O = 100A | CBS0701E |
| CBS150 | Three-phases Stabilized Class 1 Battery Charger O = 150A | CBS0701E |
| SEM1000 | Class 2 Telecom 48/60V Energy Station P = 1000W | SEM1020E |
| SEM2000 | Class 2 Telecom 48/60V Energy Station P = 2000W | SEM1020E |
| SEM3000 | Class 2 Telecom 48/60V Energy Station P = 3000W | SEM1020E |
| SEM4000 | Class 2 Telecom 48/60V Energy Station P = 4000W | SEM1020E |