---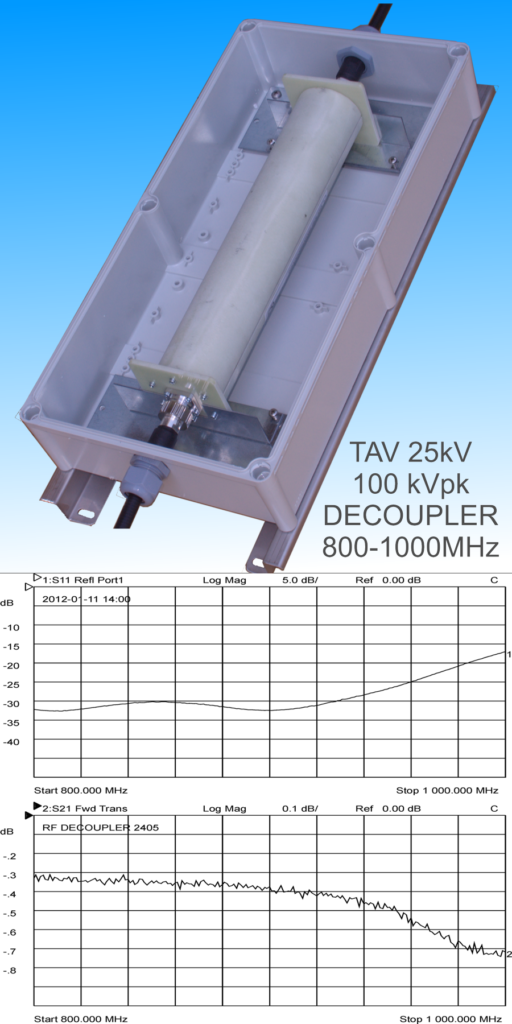 Feeding submarine amplifiers for cables and optical fibers, powering microwave transmitters on the same radio-frequency cable, powering amplifiers on conventional or slotted coaxial cables, are difficult to solve if you do not have the skills in different technologies.
Our experience allows us to solve problems that simultaneously involve the transmission of direct current energy, the transmission of signals with different gigahertz and the ability to withstand overvoltages above 100 kV.
ATTENTION: SOME OF THE LISTED PRODUCTS ARE OBJECT OF INDUSTRIAL PATENT WHOSE INFORMATIONS ARE STRICTLY CONFIDENTIAL.
The series develops with the following characteristics.
Power supply: 48-60-100-200-400 Vdc
Carriers frequency: from 100 MHz to 3 GHz
Controls frequency: from 100 kHz to 30 MHz
The series includes the following products.
| Type | Description | PDF |
| --- | --- | --- |
| DBS113 | High-insulation bi-directional decoupler 1GHz-10kVpk-IP67 | DBS113E |
| DBS113H | Reinforced-insulation bi-directional decoupler 1GHz-18kVpk-IP67 | DBS113E |
| DBU113 | High-insulation bi-directional decoupler 2.5GHz-10kVpk-IP67 | DBU113E |
| DBV023 | High-insulation bi-directional decoupler 1GHz-100kVpk-IP67 | DBV0914E |
| DBA012 | High-insulation active decoupler 50W-1GHz-10kVpk-IP67 | DBAR0410YCE |
| DBA022 | High-insulation active decoupler 200W-1GHz-10kVpk-IP67 | DBAR0410YCE |
| TMR011 | High-insulation telephone translator 0.2-4kHz-10kVpk-IP31 | TMR0705E |
| TMR021 | High-insulation xDSL translator 5-550kHz-10kVpk-IP31 | TMR0705E |
| TMR031 | High-insulation telephone translator 0.2-50kHz-10kVpk-IP31 | TMR0705E |
| TMR041 | High-insulation xDSL translator 30-550kHz-10kVpk-IP31 | TMR0705E |